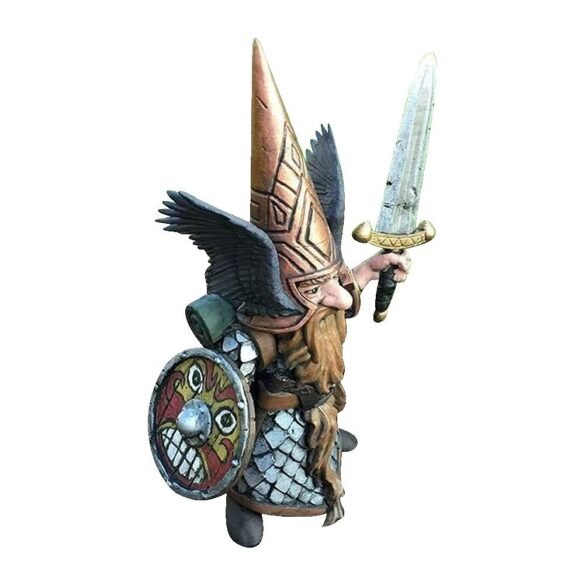 Viking Warrior Sculpture Garden Gnome 2
$24.97
2 in stock (can be backordered)
Description
Viking Warrior Sculpture Garden Gnome 2
This statue of a Viking Garden Gnome is perfect for your backyard or garden. This adorable gnome statue is a great addition to your collection. Get it now! This statue is made of resin and is waterproof.
They are also perfect for any occasion such as Veterans Day, Easter or Graduate Day, Adult Day (wedding, new year, birthday, etc. They also help to create a positive mood for a special day.
You can display this statue in your garden, on the sidewalk leading to your home, or indoors.

These are great choices for fairy-tale gardens at home, work, or on shelves. They also make beautiful garden statue gifts.

This is a resin-high quality product that has been hand-drawn.

These can be used for Valentine's Day, Mother's Day, and Father's Day.
Garden Gnome Decoration
Do you want to find super cute garden decorations? You want something small and tidy, but also welcoming and inviting. We recommend that you buy garden gnomes online if this is the case. These adorable little statues will brighten up your garden with their charm and are very affordable.
Our website has a wide selection of gnomes! No matter if you are looking for a patriotic or hanging garden gnome – our decorative statues can withstand strong winds and keep your guests entertained.
We promise you will find many gnomes, including some that are unique and not found anywhere else.
Decorative Gnomes – The Gnome Place
We have the perfect product to brighten your day with the best. What is this gnome? Of course, a gnome!
These adorable little statues are a wonderful decorative item. A garden gnome is a wonderful gift idea for someone you don't know.
What kind of gnome are we talking about? These gnomes come in a variety of sizes, including hanging and standing garden gnomes. Each gnome made with high-quality materials so that it will last for years.