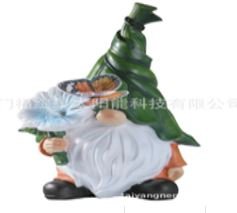 $39.97
1 in stock
Description
Add a little magic to your garden with a White Flowers Garden Gnome!
We all know the magic of the garden gnome! And the White Flower Garden Gnome brings a touch of that magic to your garden, your home, or wherever you choose to place it! This fun White Flower Garden Gnome wears an adorable little green hat and carries his namesake flower in his hands, bringing joy to all who see him! The White Flower Garden Gnome makes an excellent gift for family and friends, and of course he looks terrific in any garden space! Here's where you can buy your own White Flower Garden Gnome today!
Gnome Garden Decoration
Are you looking for super cute garden decorations? You want something compact and tidy, but also warm and inviting. If this is the case, we recommend that you purchase garden gnomes online. These adorable little statues will add charm to your garden and are very affordable.
We have a large selection of gnomes on our website! Whether you want a patriotic or hanging garden gnome, our decorative statues can withstand high winds and keep your guests entertained.
Decorative Gnomes – The Gnome Place
We have the perfect product to brighten your day with the best. What is this gnome? Of course, a gnome!
These adorable little statues are a wonderful decorative item. A garden gnome is a wonderful gift idea for someone you don't know.
Additional information
| | |
| --- | --- |
| Weight | 0.7 kg |
| Dimensions | 17 × 15 × 32 cm |