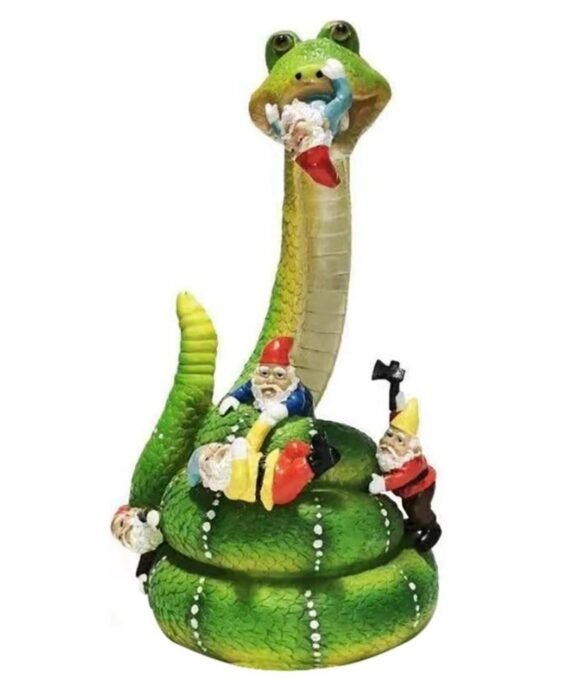 Garden Gnome captured by Snake
$27.97
1 in stock
Description
These hard-working garden gnomes are fighting off the snake captured by Snake and trying to rescue their little friends.
The perfect party gift or a gift idea for that friend who can have a good laugh or a Halloween decoration.
You Can Also Buy From our Etsy Shop
1:The gnomes teased the Snake, so the Snake captured two of them, one step on the foot and the other biting in the mouth. This snack and garden dwarf statue has a one-of-a-kind design that adds a pleasant and interesting atmosphere to your garden.
2:The Snake statue can be placed in your garden or on your lawn to attract the attention of your neighbours. It will entice people to stop and admire this one-of-a-kind garden decor. Of course, you can also use it as a unique room decoration.
3:Handmade and made of high-quality materials: The dwarf garden Snake statue is handmade, made of resin, and is long-lasting, non-toxic, and harmless.
4:Unforgettable gift: This outdoor artistic Snake sculpture makes a memorable gift for birthdays, Father's Day, Mother's Day, and Housewarming Anniversary.
WEATHER RESISTANT: Each statue has a UV and weather resistant coating to make it suitable for outdoor use. It can leave outside without fear of fading or cracking.
Additional information
| | |
| --- | --- |
| Dimensions | 20 × 18 × 15 cm |