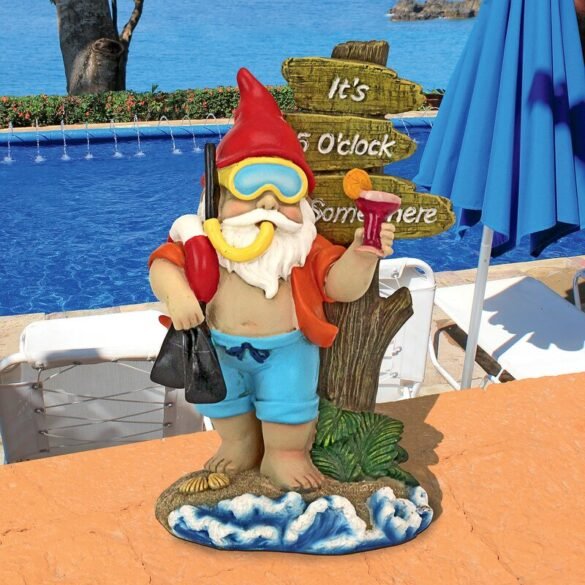 Gnome Scuba Diver | Scuba Diving Gnome
$36.97
1 in stock
Description
Scuba Diving Gnome – One look at this scavenger garden elf with his tropical beverage will make them pronounce it's 5 o'clock some place wearing hotel wear and heading for a South ocean side bar! Scarcely any nursery little person sculptures can add tone to tropical heaven stylistic theme while expanding a warm welcome like their chill grass elf with island lei, red elf cap, sun conceals, and a tropical beverage. This Design Toscano-select Happy Hour Tropical Garden Gnome Statue is as cheerful in your dwarf garden as he is poolside at the tiki bar. Their dwarf dolls are projected in quality creator sap and separately hand-painted each piece in turn as an extraordinary gift that will remind you and your visitors to kick back and unwind.
You Can Also Buy From our Etsy Shop
Gnome Garden Decoration
Is it true that you are searching for very adorable nursery adornments? You need something little and clean, yet in addition warm and welcoming. If so, we suggest that you buy garden elves on the web. These cute little sculptures will add appeal to your nursery and are truly reasonable. Holahoop Garden Gnome!
We have an enormous choice of elves on our site! Regardless of whether you need a devoted or hanging garden elf, our enlivening sculptures can endure high breezes and keep your visitors engaged. Scuba Diving Gnome !!
Our site has a wide assurance of dwarves! Notwithstanding accepting that you are looking for a committed or hanging garden little individual – our lighting up models can bear strong breezes and keep your guests locked in.
What kind of gnome are we talking about? These gnomes come in a variety of sizes, including hanging and standing garden gnomes. Each gnome made with high-quality materials so that it will last for years.
They are also perfect for any occasion such as Veterans Day, Easter or Graduate Day, Adult Day (wedding, new year, birthday, etc. They also help to create a positive mood for a special day.
These adorable little statues are a wonderful decorative item. A garden gnome is a wonderful gift idea for someone you don't know.
Additional information
| | |
| --- | --- |
| Dimensions | 12 × 17 × 26.5 cm |