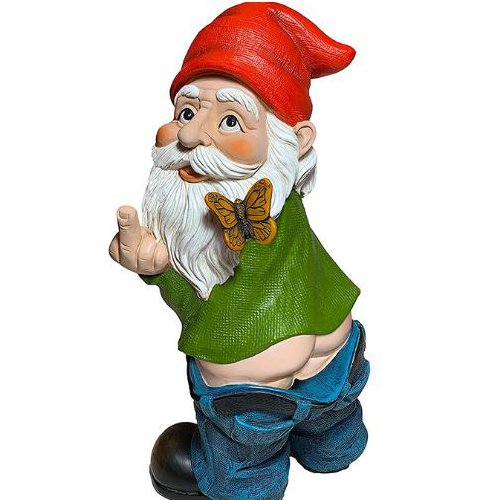 Peeing Gnome with Butterfly
$24.97
The peeing gnome With Butterfly can be used as a gift for a friend or to stand on the lawn or under the tree. This gnome statue is ideal for all celebrations.
Dimensions in cm (LxWxH) – 9 x 9 x 17
Please note the sizes are not exact and may vary slightly
1 in stock (can be backordered)
Description
Peeing Gnome with Butterfly
WILLY THE NAUGHTY PEEING GNOME — along with his pants down and an excess tankard of ale in his feet, this humorous gnome peeing shows a surprised expression on his foolish bearded face.
MAKE YOUR GUESTS CHUCKLE — This cute gnome welcomes your guests with his hands looking to hold a tree, fence post or, comparable outside decoration. Delight family and friends with your amusing lawn decorations.
Premium quality DESIGN — Colorful red and green with a classic gnome look, Willy the Peeing Gnome is handcrafted and weighs 250g — not too heavy to carry but not too mild compared to dismiss from the elements. UV and water-resistant. DURABLE YARD DECORATIONS — Made to weather the outdoors for a long time to come.
Exhibit this filthy gnome statue in your garden, yard, entryway, or even indoors. Offensive gnomes produce a fantastic gag gift for friends & family.100% SATISFACTION GUARANTEE.
These are high-quality, novelty items, and collectibles.  please contact us. Read more
Naughty Indoor Outdoor Gnome Door Stop by Bella Haus Design

Dimensions in cm (LxWxH) – 9 x 9 x 16
Please note the sizes are not exact and may vary slightly