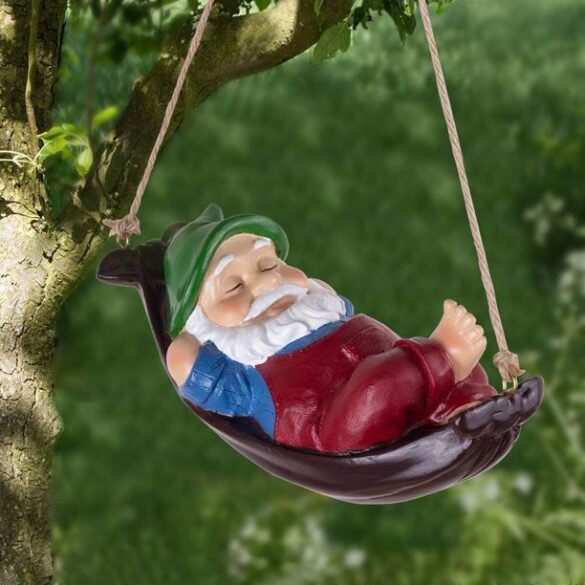 Gnome on Swing (Green Hat) | Gnome on Swing
$24.97
2 in stock
Description
Gnome on Swing – YOU THINK THAT LIFE GOES TOO FAST? THIS PAIR OF CUTE GNOMES ON THEIR SWINGS KNOW HOW TO ENJOY THE PASSAGE OF TIME. Contingent Upon THE WIND, OR YOUR MOOD, THEY WILL ROCK YOUR DECORATIONS.
Try not to be reluctant to pause for a minute for yourself, these two companions on their swings are there for you! Continuously feeling great, they will go with you with consideration in this merited second.
For quite a while the nursery little persons, as an enrichment, were restricted to be a fanciful portrayal of specific European fables. As they turned out to be so well known, lively and rambunctious elves, in the end, showed up and were introduced by glad landscapers. These two companions on their swing have kept the practice of luxury alive. Gnome on Swing !
ONE IS SITTING ON A TRADITIONAL SWING AND THE OTHER HAS CHOSEN A LEAF FOR SUPPORT.
These two companions will forever answer the call as a lot to enrich as to cause you to feel better. Garden dwarves are generally great creatures, and their main goal is without a doubt to spread the delight!
Planned and painted manually, this well-disposed team of nursery dwarves will be a fitting adornment any place you introduce them. Dangling from a curve or along a divider, they will continually carry a grin to your face any place they are.
You Can Also Buy From our Etsy Shop
Garden Gnome Decoration
Do you want to find super cute garden decorations? You want something small and tidy, but also welcoming and inviting. We recommend that you buy garden gnomes online if this is the case. These adorable little statues will brighten up your garden with their charm and are very affordable.
Our website has a wide selection of gnomes! No matter if you are looking for a patriotic or hanging garden gnome – our decorative statues can withstand strong winds and keep your guests entertained.
Additional information
| | |
| --- | --- |
| Dimensions | 7 × 8.5 × 19 cm |