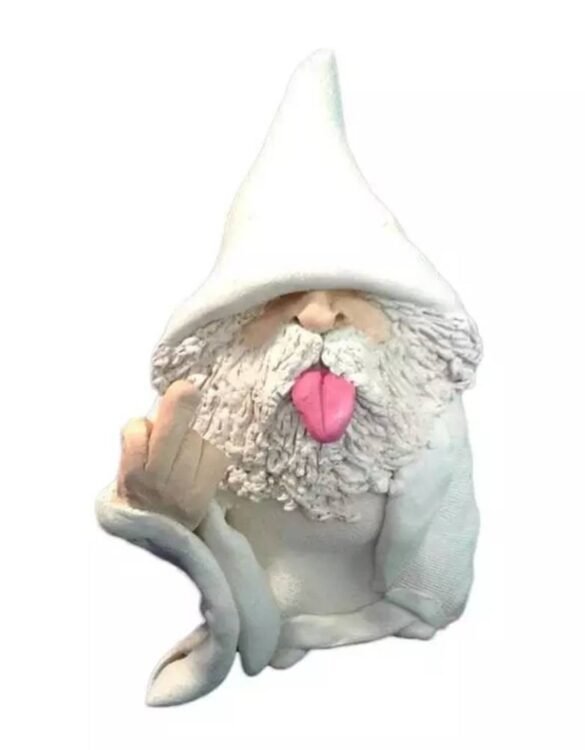 White Mocking Garden Gnome
$27.97
Out of stock
Description
This white garden gnome stands about 15-16cm high.
The perfect father's day, birthday gift, house warming gift or for any special occasion.
Ideal for that person with a great sense of humor.
You Can Also Buy From our Etsy Shop
George the Rocker Gnome enjoys being cool and – Rock On! – This garden gnome will brighten anyone's day and rock your fairy garden and garden gnomes. George spends his days being silly and making fairies and gnomes laugh. In the magical enchanted kingdom, he hangs out with all the fairies and gnomes.
You'll occasionally see him playing hide and seek with the baby gnomes and telling them stories about the enchanted kingdom. Rocker Gnome will make you happy and ensure that you have a -Rock-On-day! George is guaranteed to put a smile on anyone's face!
This cool gnome figurine will be the focal point of your fairy garden, home, or office. George can withstand Mother Nature's elements because he is cast in high-quality resin and hand painted with care by our artists.
Put this gnome in your fairy garden and watch the fairies dance alongside him at night. The design and craftsmanship are incredible and extremely detailed. When you look closely, you'll notice how much attention has been paid to the smallest details.
the gnome shop GlitZGlam's rocker gnome will transport you to a world of fantasy and magic. Large gnomes make excellent companions for your garden fairy figures, and they also get along well with pixies and sprites. This gnome stands out from the crowd, and his design and pose greet everyone with open arms. An absolute must-have for your miniature garden! He can be a garden gnome or a lawn gnome, or he can simply sit on the shelf next to you while you work.
Additional information
| | |
| --- | --- |
| Dimensions | 20 × 18 × 15 cm |