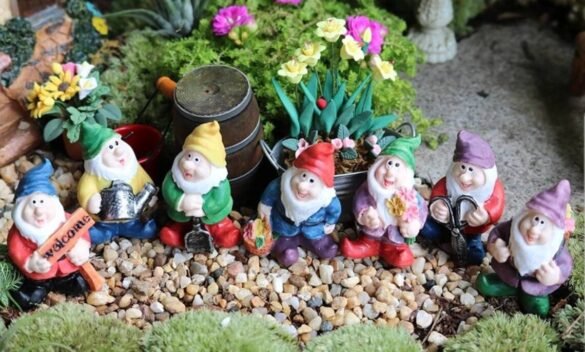 7 Dwarf Garden Gnomes statues
$22.97
3 in stock (can be backordered)
Description
7 dwarfs garden statues Gnomes The perfect arrangement for your flower pot or garden.
These cute mini gnomes will brighten any garden decor.
7-piece set of gnomes
You Can Also Buy From our Etsy Shop
 1. Gifts: These miniature fairy garden decorations are appropriate for any age or occasion, and can be given as housewarming, birthday, New Year, Christmas, or holiday gifts.
 2. Safe and waterproof: These fairy statues are made of high-quality resin materials that are waterproof and rustproof, as well as resistant to fading and rotting, allowing you to create your fairy garden.
 3. Included: You will receive 7 mini dwarf statues in various styles, each dwarf offspring is approximately 5 cm/1.9 inches in height and can be used to decorate your flower pots and make your garden look interesting and eye-catching.
 4. Add to your collection: Each dwarf statue is handcrafted, designed with vivid details and bright colors, and appears very advantageous and lively.
 We have the perfect product to brighten your day with the best. What is this gnome? Of course, a gnome!
These adorable little statues are a wonderful decorative item. A garden gnome is a wonderful gift idea for someone you don't know.
You want something small and tidy, but also welcoming and inviting. Each gnome is made with high-quality materials so that it will last for years. 7 dwarfs garden statues
Additional information
| | |
| --- | --- |
| Weight | .250 kg |
| Dimensions | 15 × 12 × 10 cm |